General Dentist in Laurel, MS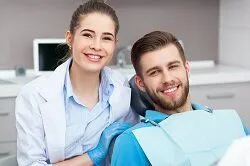 Your smile is everything. It helps you laugh. It makes it possible to enjoy delicious foods. It makes it possible to communicate with those around you. So, why don't you give your smile the very best care possible so that it can keep functioning properly and looking its best for you? Our dentists, Dr. Shelley and Kerry Davis, and the team at North Laurel Family Dentistry provide a full range of general dentistry services to patients of all ages.
What is General Dentistry?
Our general dentists are medical professionals that provide generalized dental care to patients of all ages. General dental care encompasses a wide range of preventive care, as well as dental procedures and treatments. Whether you need to get your teeth cleaned or you are dealing with a toothache, our general dentistry team is going to be the provider you turn to for most of your dental needs. When dental problems are more complex, such as having wisdom teeth removed, we can also refer you to oral surgeons and other dental specialists, when needed.
Laurel, MS General Dental Services
Here at our state-of-the-art dental practice in Laurel, MS, we offer a full range of general dentistry services and procedures to meet every patient's needs.
Common general dentistry services include:
Oral exams and prophylactic cleanings
Dental fillings
Root canal treatment
Oral cancer screening
Dentures
Sealants
Mouthguards
Fluoride treatment
Crowns and bridges
Simple tooth extractions
TMJ treatment


What Can My Laurel Dentist Do For Me?
When was the last time you had your teeth properly cleaned by a dental professional? Everyone needs to come into the office twice a year for dental cleanings. This is the best way for us to get a better idea of your oral and general health and provide suggestions and tips to improve your oral health and prevent dental problems from arising.
One of the biggest benefits of turning to our general dentistry team regularly is that we focus on preventive healthcare, which includes dental cleanings, exams, and x-rays, dental sealants, fluoride treatment, and other ways to reduce your and your family's risk for decay, gum disease, and dental injuries. Your health comes first when you turn to the dental team at North Laurel Family Dentistry.
Are you looking for a new general dentist? Let North Laurel Family Dentistry care for you and your family's smiles! Call our Laurel, MS office today at

(601) 649-3900

to schedule your next general dentistry checkup.